Original
Ende Original
Icon
Icon
Icon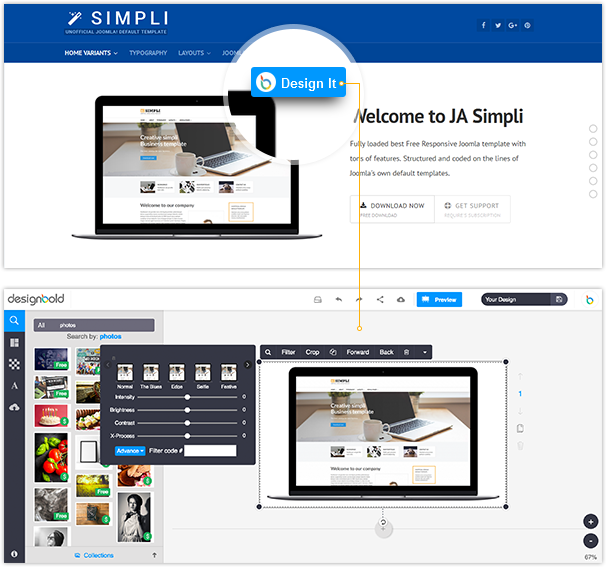 Manage your graphics professionally
1

Live preview

Preview uploaded or stock images to find the right one that matches your requirement.
2

powerful editor

Edit the image right from the Joomla frontend. Easy to add text or use filters to enhance your images. Once done, download the graphic and use it in Joomla.
3

Features at glance

Photo filters, Free icons and shapes, 100's of fonts
4

Full integration coming soon

If you like this integration. Let us know & we will work more on this.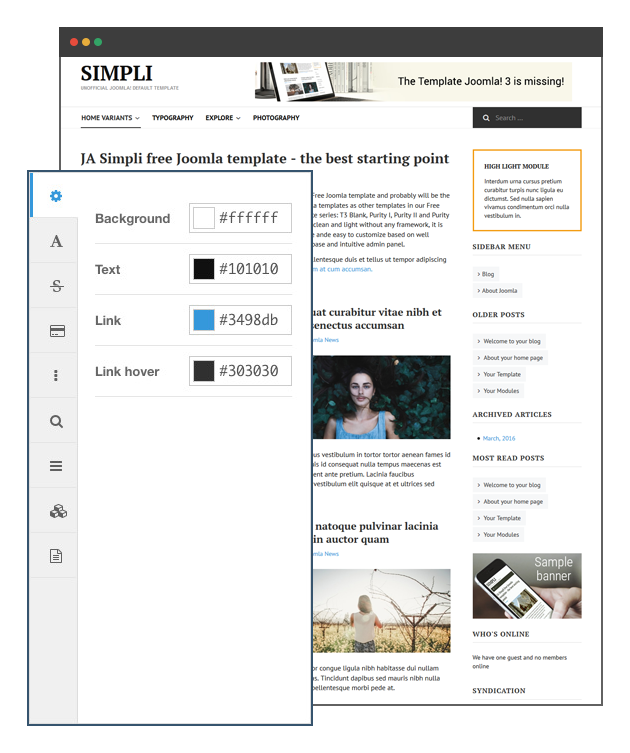 Outstanding Core Features
1

Simplicity

The template is not based on any framework. It's clean and simple for quick implementation & comes loaded with a powerful admin backend for easy customization. No coding required.
2

4 pre-made unique layouts

To jumpstart your imagination, we have included 4 different home page variants viz. Business, Magazine, Corporate and Landing page (Onepage with sticky menu). More layouts would be added in the coming versions, for now these layouts should get you started.
3

Fully responsive

The Free Joomla template is fully responsive and uses the default Joomla! Bootstrap 2.3.2. Why? (Scroll down to FAQ section for answer). Outstanding look and feel in all responsive layouts: Desktop, Tablet & Mobile.
4

Inbuilt powerful customizer

Tweaking css elements is a breeze with realtime preview right in the backend. Customize layouts with clicks. JA Simpli ships with a intuitive Admin panel with special focus on basic Joomla users. Its fun to play around.
Unofficial Joomla! default template
Interdum urna cursus pretium curabitur turpis nunc ligula eu dictumst. Sed nulla sapien vivamus condimentum.

Ingenieurbüro Kick

Ingenieurbüro Kick